Originating from Scandinavia in the 1950s, Forest School increases children's understanding of, and appreciation for, the outdoors in a play-based environment. It forms an integral part of our curriculum, as we've found real experiences help make learning more purposeful and meaningful.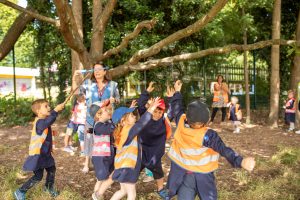 Forest School supports children to:
Develop an appreciation of nature and all living things
Make independent choices
Assess their own risks
Work as part of a team
Inquisitively question the world around them
Build their problem-solving skills
Adopt a positive attitude to learning
We find our own slice of nature within the capital by taking fortnightly trips to Wimbledon Common and Holland Park. Activities include understanding signs of seasonal changes, observing wildlife and insects, and learning how to use real tools safely.
Forest School is designed to allow children the opportunity to 'give things a go', and so we offer consistent encouragement and praise to create a positive experience.