Your child's experience at The Kindergartens will be one which inspires creativity, builds confidence and encourages a lifelong love of learning. No two days will be the same, and they will get to experience a high quality early education.
Our year is split into three terms; Autumn, Spring and Summer, with the opportunity at a selection of our Nursery Schools to extend into the Christmas, Easter and Summer breaks, offering an extra level of flexibility where needed.
As well as our extracurricular lessons and clubs, the main nursery school day provides a structured approach to EYFS that aims to provide the best outcomes for children.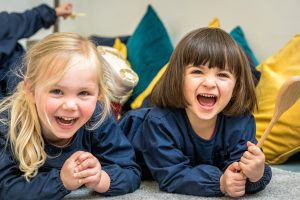 We provide both an exciting calendar of activities throughout the year for your child, but also the wider family to encourage involvement wherever you can.
Staying connected with our parents is extremely important to us!
Alongside our end-of-term reports, we hold a parents' evening once a year in Spring to offer you the opportunity to talk in more detail about the progress your child is making, along with any next steps for their learning and development.
We have active Parent-Teacher Associations (PTAs) in all our Nursery Schools, who act as a liaison between parents and the Head Teacher as well as organising many events across the year to raise money for charity and offer parents the opportunity to socialise – including coffee mornings, cake sales and picnics.
To further support your child's transition into education, we run annual Future Schools evenings, where we share our vast knowledge on the different schools in the area and the various registration and admissions processes.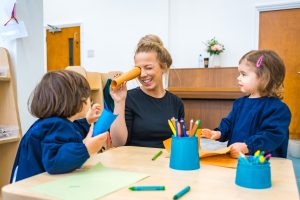 The Dukes Club:
By joining The Kindergartens, you will have the opportunity to also join the Dukes Club.
The Dukes Club is an extraordinary community of parents, pupils, staff and alumni, designed to connect families across all the Dukes Education nurseries, schools and colleges. It is a space to learn, network, take advantage of exciting opportunities and amazing rewards, and make new friends.
As a growing family of schools, our scale and scope enables us to provide you with exclusive access to a huge array of opportunities that would simply be beyond the reach of any single school.
Belonging to the Dukes Club provides access to expert advice from leaders in the worlds of education and parenting. We will keep you in the know with the latest information, invite you to exciting family events and fun social gatherings, and offer you and your children opportunities to enjoy adventures of a lifetime.
The Dukes Club will be a chance for you to find a mentor or work experience for your child, to meet among like-minded individuals and socialise both online and in real life.
Find out more at https://dukeseducation.com/dukes-club